As of Tuesday afternoon, 71 wildfires are actively burning in the province and 20 are out of control. So far this year, 520 wildfires have burned more than 1,017,000 hectares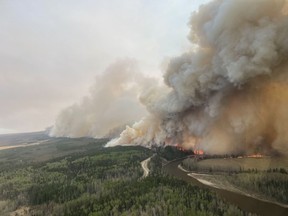 Article content
Rain and cooler weather conditions across Alberta are helping wildfire fighting efforts as dozens continue to burn out of control.
Article content
Christie Tucker, information unit manager with Alberta Wildfire, said during an update on the wildfire situation Tuesday that the lower fire behaviour as a result of the weather means firefighters are making progress on containing the fires.
Article content
Wildfire GWF-017, located three kilometres southeast of Sturgeon Lake Cree Nation and an estimated 5,272 hectares, along with GWF-023, about 10 kilometres northeast of Valleyview and an estimated 3,869 hectares, known together as the Sturgeon Complex, are now classified as being held.
The Bald Mountain fire, 50 kilometres south of Grande Prairie and an estimated 19,435 hectares, is also classified as being held as of Tuesday afternoon.
"That means that the fire is not expected to grow beyond the established boundaries under the current conditions," said Tucker.
She said the smoke hampered efforts from the sky but significant progress was made on the ground over the May long weekend.
"What that means is building fire guards around to protect communities and that is using heavy equipment or bulldozers to clear vegetation that would be used by a fire to draw it close to a community," she said. "We reinforce those fire guards that we are building by doing a various number of things such as burning off in a very controlled way some of the additional smaller fuels that could be used."
Article content
Crews have also been turning over hot spots to ensure they are extinguished.
There are 1,123 firefighters from across Canada and the United States assisting nearly 1,700 firefighters from Alberta Wildfire on the fires.
"Even though we have made headway on many wildfires on the landscape, we know that the season is far from over," said Tucker. "We need to be prepared. We're continuing to bring in assistance from outside the province including a team from Parks Canada arriving (Tuesday) and 96 firefighters from the U.S. arriving (Wednesday)."
Additional help from New Zealand and Australia is expected to arrive by the end of the week.
As of Tuesday afternoon, 71 wildfires are actively burning in the province and 20 are out of control. So far this year, 520 wildfires have burned more than 1,017,000 hectares.
"That's certainly the most we've seen in springtime in Alberta on record," said Tucker. "For this time of year, yes, this is an extraordinary year. We have not seen numbers like this in Alberta on record and it is something that is certainly illustrating what we've been saying about the unusual nature of this fire season."
Article content
At this time last year, just 450 hectares had burned.
"The last highest we have on recent record was 2019 which was 883,000 (hectares) and that was a significant wildfire year," Tucker said. "You may remember the Chuckegg Creek wildfire near the High Level area that was a significant fire and a number of other large complexes, but still we have surpassed that total from 2019 for the entire season already."
Alberta's all-time record year was in 1981, when 1.3 million hectares burned over an entire fire season.
Along with the provincial state of emergency, there are 22 states of local emergency, five band council resolutions and an estimated 10,655 Albertans who remain evacuated.
There are 11 reception centers open and the total number of evacuation orders stands at 15
Financial aid is available to evacuees who have been out of their homes for at least seven total days. Evacuees can apply using a verified Alberta.ca account. More than 14,200 applications have been processed and more than $25 million in e-transfers and debit cards to evacuees have been sent out.
Every night at 7:30 p.m. the province is holding a telephone town hall for evacuees to ask questions and connect residents. Evacuees can call 1-833-380-0691 to participate.
Article content
Wildfires of note
These are the latest numbers on Alberta's major out-of-control wildfires as of Tuesday afternoon.
The Deep Creek fire (WCU-001) in Yellowhead and Parkland County is an estimated 7,058 hectares
WCU-002 in Yellowhead County is an estimated 2,401 hectares
EWF-031, located 14 kilometres southeast of Edson, is an estimated 113,244 hectares
EWF-035, three kilometres southeast of Shining Bank, is an estimated 20,996 hectares
RWF-034 threatening O'Chiese First Nation is an estimated 82,869 hectares
The Blackstone fire (RWF-040), about six kilometres northeast of Brown Creek Provincial Recreational Area, is an estimated 4,544 hectares
The Eagle fire, (WWF-023), about one kilometre from Fox Creek, is an estimated 72,830 hectares
GWF-018, located five kilometres east of Cleardale, is an estimated 47,266 hectares
GWF-027, in the Municipal District of Greenview, is an estimated 54,274 hectares
PWF-038, about 17 kilometres northeast of Three Creeks, is an estimated 6,130 hectares
SWF-057, about 30 kilometres southwest of Slave Lake, is an estimated 16,728 hectares
SWF-060, on the east side of Utikuma Lake, is an estimated 43,981 hectares
SWF-063, near East Prairie Métis Settlement, is an estimated 123,670 hectares
Article content
SWF-064, more than 40 kilometres northwest of Swan Hills, is an estimated 40,060 hectares
SWF-068, near Peavine Métis Settlement, is an estimated 108,889 hectares
SWF-081, which has reached Chipewyan Lakes, is an estimated 19,499 hectares
The Salteaux Complex, which includes SWF-085, SWF-086, and SWF-087, located five kilometres west of Smith and 30 kilometres east of Slave Lake, is a combined estimated 5,877 hectares
The Paskwa fire (HWF-030), located in Fox Lake, is an estimated 72,639 hectares
The Long Lake fire (HWF-036), threatening Rainbow Lake and Chateh, is an estimated 120,068 hectares
Up-to-date fire information can be found online at Alberta.ca/alberta-wildfire.aspx.