Europe is in the grip of an unprecedented heat wave, with Spain, Portugal, France and Greece experiencing multiple forest fires and Britain recording a record-breaking 40 degrees Celsius on Tuesday.
For a week, Spain has recorded more than 30 wildfires that have caused serious damage in the cities of Castile and Leon and Galicia, news agency Reuters reported.
More than 6,000 people from 32 villages in the province of Zamora were evacuated by Spanish authorities and nearly 70,000 hectares of land were destroyed by fire.
In Portugal, hundreds of firefighters are battling forest fires in Murca. According to reports, the Portuguese authorities have been alerted in at least 50 cities. An elderly couple was found dead in a burnt-out car in Morca on Monday, Reuters reported.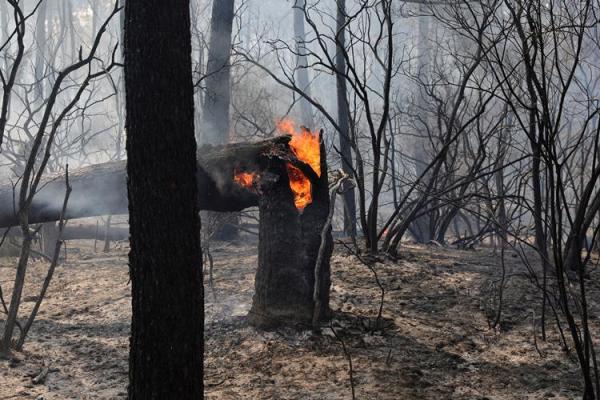 A burning tree is seen in the La Teste de Bouch forest after a severe fire near Dune du Pilat, where wildfires continue to spread in southwestern France's Gironde region, July 19, 2022.
France has evacuated more than 34,000 people as its Gironde region continues to burn. More than 19,300 hectares of land were burned. Greece has reported 73 fires in the past 24 hours and all have been extinguished, according to officials.
Meanwhile, in Britain, authorities have declared a "national emergency" as flights have been suspended and trains blocked at London's airport. They advised people not to swim in open areas. Britain recorded a high of 40C on Tuesday.
People bathe in the sea during a heat wave in Brighton, Britain, on July 19, 2022. (Reuters photo)
The previous record was 38.7 degrees C in 2019, and officials fear infrastructure, particularly Victorians, will not be able to cope with such heat.
Overall, the scorching heat in relatively cool Europe will make climate change more noticeable. According to the United Nations, global temperatures are now about 1.2 degrees Celsius higher than pre-industrial times.
(With inputs from Reuters)