Spanish | Portuguese
There is a gap in funding to prevent climate change. Less than 1% goes directly to Indigenous and Indigenous Communities (IPLCs). Investment is needed to strengthen their IPLC administration, protect their territories and participate equally in climate and conservation finance.
IPLC is establishing a Territorial Governance Facility (Facility) to meet the cultural needs of IPLCs who want to fill this gap and strengthen management and participate in climate and conservation finance projects and programs.
The institute supports activities in three major sectors.
1) political administration;
The political administration program focuses on providing IPLC tools for better governance and / or administration at the local level. Strengthening this capacity will: 1) better represent the needs and interests of communities and families (with a special focus on gender and generational equality) and 2) more effectively protect their interests and territories in their interactions with foreign actors, especially local and regional bodies. Governments, and in situations that threaten the unity and protection of their forest lands.
2) Economic management
The Economic Management Program focuses on recognizing the natural resources of a community or state as common goods and promoting a fair and prosperous life for all families and communities (Buen vivir). This program promotes dialogue and co-creation processes in the states to ensure their economy, food security and sustainable use of resources. The program helps to create self-determined economic enterprises and build relationships to ensure fair market access.
3) Cultural management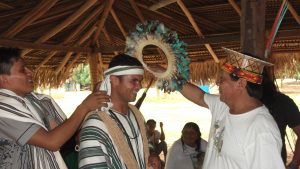 The Cultural Management Program is based on the IPLC's desire to ensure the survival of their language, knowledge and cultural practices in the face of language erosion. Indigenous values, knowledge and lifestyles are a threat to the traditional integrity and survival of IPLCs, especially in schools, the media and mobile phones. Therefore, it is important for regional governments to develop programs and activities with a traditional approach to engage young people, share and retain knowledge, and encourage dialogue among generations.
Building more than 20 years of experience Forest Trends provides a framework for building an independent institution that can manage primary institutional structures, technical capacity and multi-stakeholder management, as well as private and public finances. The first major focus is on Latin America, which has the potential to be internationally recognized. The ultimate goal is to create an independent vehicle with the ability to quickly collect multi-stakeholder management, multi-donor structure and private and public funding. In this first phase, the Institution includes a Coordinating Committee consisting of representatives, IPLC representatives, and internationally respected individuals to guide the design and initial investments.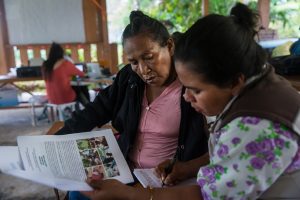 The Institution supports IPLC communities and states by:
1) Provide training, network and capacity building programs to strengthen regional administration
2) Link to multiple sources of funding for political, economic and cultural management projects.
3) Assist them in accessing direct climate and protection financing through relationships and partnerships with government and private companies.
Contact Beto Borges, borges @Emptyforest-trends.org
Director, Communities and State Administration Initiative
Capacity Building Program on Indigenous Regional Administration (PFGTI)