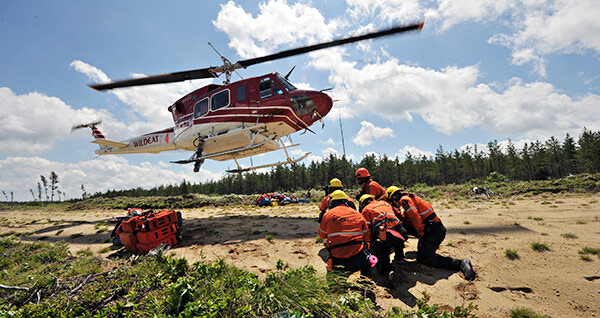 Tim Brody – Editor
A quiet forest fire season in Northwestern Ontario so far.
Ministry of Northern Development, Mines, and Natural Resources and Forestry's Aviation, Forest Fire and Emergency Services (AFFES) Fire Information Officer Chris Marchand said since the start of this year's fire season on April 1, there have only been 28 forest fires in the Northwest, and 121 forest fires provincewide.
"The fires we have had have burned less than 20 hectares, so if you look at that in comparison to numbers from this time last year, where we were really moving towards the peak of a record-breaking season, we find ourselves at less than one percent of the area burned," he said, adding, "On this date (July 14) last year we had burned 710,407 hectares, mostly in the Northwest."
Marchand commented, "As always, weather sort of drives that fire behavior on the landscape and our present situation is kind of a result of the last couple of months, we had that late spring with long lasting snow cover, a lot of really widespread rainfall falling with regularity since April. We've had these cool temperatures and higher relative humidity values that really haven't allowed for any lasting rebound to the fire hazard."
Marchand said that although there has been no shortage of lighting this summer, "we just don't have those same drought conditions in the soil that promote easy ignition following a lightning strike this year."
Although things are quiet now, Marchand said the situation can change quickly, "It can be easy to forget that fire hazard conditions are very dynamic and can change within a day, so if you are planning to have a fire or burn, just check the fire hazard (https://www.ontario.ca/page/forest-fires) and make that part of your decision on whether or not to burn… We're in the height of the fire season at the moment, there's still a lot of potential to see fire activity on the landscape should the weather trend to hot, dry, windy conditions for more than a few days without getting dumped on again with rain."
With a quiet forest fire season thus far, Marchand said personnel have been catching up on training and assisting with fires out of province.
"Just this week we had several logistics staff from the Northwest who were deployed to the Yukon territory to assist with the fire escalation there… in the spring we had staff deployed to the Northeast for a brief fire escalation there in May. We had FireRangers assisting with the storm cleanup in Ottawa earlier this year, as well as filling sandbags for affected areas here in the Northwest. 
"We are catching up with a bit of training that just really wasn't possible during a very busy 2021. Crews have been participating in mock fire scenarios, they're graded on every aspect of their operational skills and knowledge of equipment and safety practices and communication and teamwork… there's also some interagency training taking place with municipal and rural fire chiefs with whom we interact with on fires from time to time. It's a chance to share knowledge and know each other's equipment, what each other's roles are and learn how to best work together… As COVID restrictions ease somewhat, our outreach staff are becoming a presence again at community events, getting out and talking with the public about fire prevention and safety and offering tips about how to FireSmart your property," he concluded.
As of July 17, AFFES reported that the wildland fire hazard in the Northwest Region is mainly high across all sectors. Some areas of Red Lake, Sioux Lookout, Nipigon and Thunder Bay feature extreme fire hazard.
"Aviation, Forest Fire and Emergency Services would like to remind the public to use caution when performing any outdoor burning. In order to dispose of yard waste and woody debris, we encourage you to use methods such as composting or using your local landfill. If you must burn, follow Ontario's Outdoor Burning Regulations.
Fires are to be ignited no sooner than two hours before sunset and extinguished no later than two hours after sunrise. Always have tools/water adequate to contain the fire at the site. Know the rules for safe outdoor burning. Consult the full set of Outdoor Burning Regulations. If you intend to burn within the boundaries of a municipality, check with your local fire department for restrictions or permitting requirements," AFFES shared in their July 17 update.
AFFES also cautioned, "When waterbombers approach a body of water, move close to the shore so they can perform their scoop safely. A waterbomber will not scoop from a lake or river if encroaching watercraft pose a safety hazard. Be safe, stay clear of waterbombers."
To report a wildfire in the region, people are asked to dial 310-FIRE.