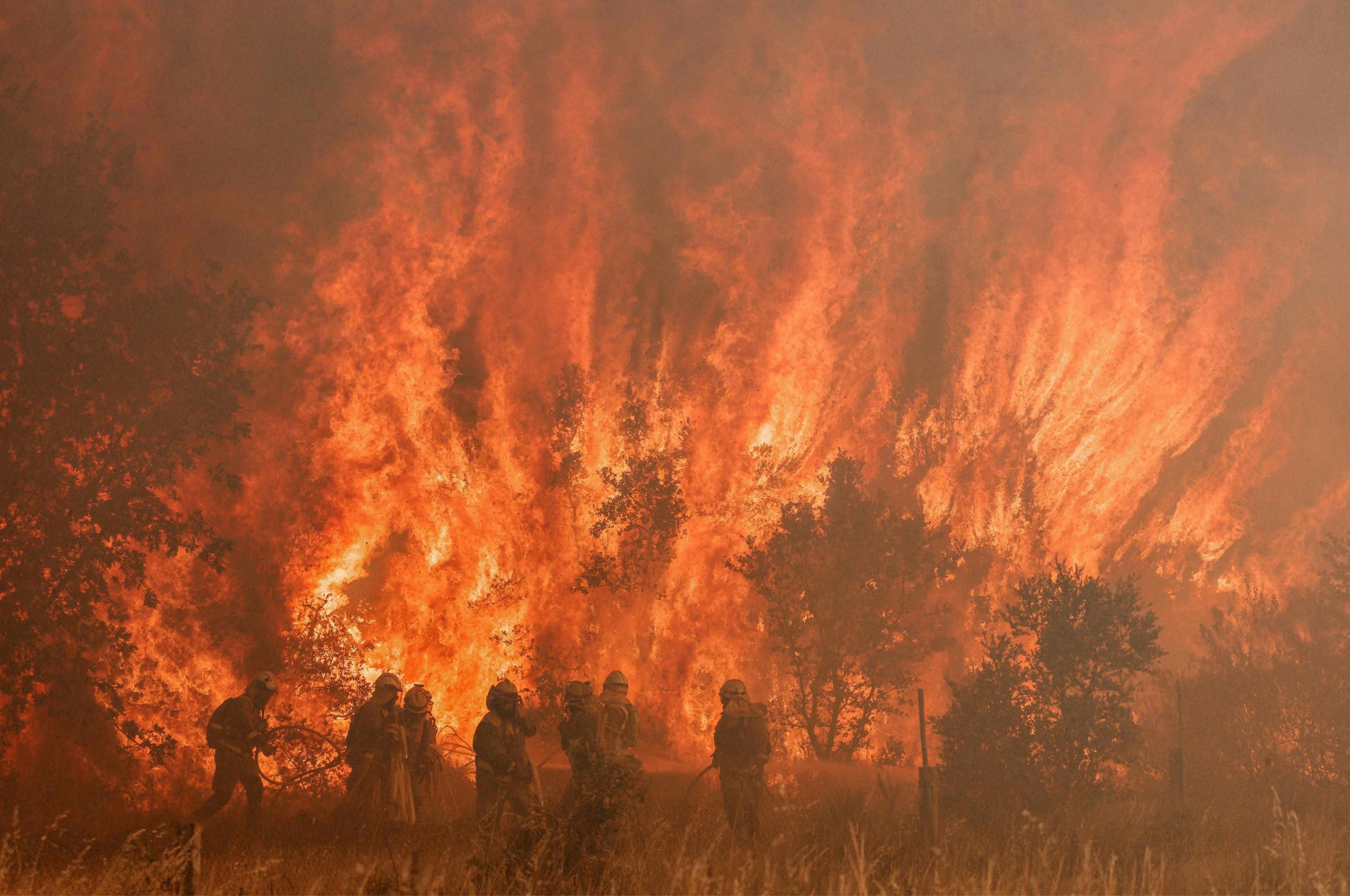 Hundreds of people have been forced from their homes and tens of thousands of acres have been burned through by wildfires across Spain, with global climate experts warning that nearly the entire country is at risk of facing the flames.
"Nearly all the country faces extreme fire risk Friday as a result of the heatwave and drought" Spain and much of Europe is experiencing, the World Meteorological Organization (WMO) reported Friday, noting that a Saharan dust cloud that's drifted north toward the continent may also have an impact on public health.
Roughly 61,000 acres of land in the northwestern province of Zamora had been destroyed by the wildfires as of Sunday and several Spanish cities reported temperatures topping 104°F in recent days.
At least 18 villages have been evacuated in Zamora, where a lightning storm reportedly started the wildfires last Wednesday.
"As a result of climate change, heatwaves are starting earlier."
Experts say extreme heat and drought, which have both been linked to the human-caused climate crisis, are causing the fires to spread rapidly. The country's drought has stretched on for several months, with officials saying in March that Spain's reservoirs were at just over 44% capacity—the lowest level since 1995.
Just as climate experts last week warned that the current heatwave in the United States—affecting about a third of the nation's population—was indicative of a "new normal," European observers said the extreme weather facing Spain and other European countries are the consequences of continued fossil fuel extraction and will continue unless global policymakers ensure carbon emissions are rapidly drawn down.
"As a result of climate change, heatwaves are starting earlier," Clare Nullis, a spokesperson for the WMO in Geneva, told The Independent.
France has also been struck by extreme heat, with temperatures more than 10°F higher than usual at this time of year. In recent days French officials have recorded temperatures as high as 102.2°F in the country's southwest.
The long-lasting heatwave is a "marker of climate change," climatologist Matthieu Sorel told NPR.
In northern Italy, The Po—the country's longest river—was 10 feet below its normal level as of Monday, with officials blaming the drought.
As The Times reported Monday, fruit and vegetable production could be reduced by up to 40% after three months of drought, because the River Po irrigates the region where nearly half of the country's food is produced.
"Emergency decarbonization now," said international climate action movement Extinction Rebellion in response to the reports out of Italy.
While Spanish emergency workers were battling the continent's most widespread wildfires Monday, a similar crisis was reportedly worsening in Germany, where three villages near Berlin were evacuated Sunday due to an approaching fire.
Temperatures in cities including Dresden and Cottbus on Sunday surpassed 102°F, and the evacuations outside Berlin affected about 600 people who were ordered to stay in a community center until the fires were brought under control.
Emma Jackson, an organizer with 350 Canada, said the wildfires taking place in drought-ridden regions must not be treated as natural disasters, but as crimes perpetrated by "arsonists"—fossil fuel companies and the politicians who enable them.
"Only an internationalist working-class movement can stop them," Jackson said.